Mitch Perry Defeats Sciatica and Rocks' Again
Rock Guitarist Mitch Perry had so much debilitating sciatica pain that it was impossible for him to stand up for more than two consecutive songs. None of the fixes he tried helped.
After seeing Dr. Ross, he's now playing full sets again without having to sit down… and has no hesitation flying off to his next concert tour.
---
Mindi Abair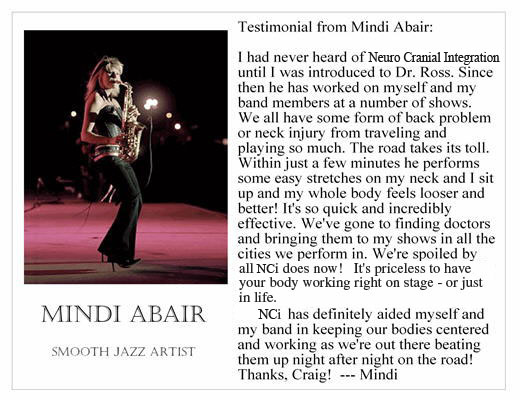 Scott B.
"Several problems brought me to Dr. Ross — Severe neck and nerve pain, loss of sleep, appetite and movement, depression and "Fibromyalgia"

I was skeptical at first. I have tried everything medical doctors threw at me, but year after year I progressively got worse. 10 years later, my life was over. It seemed that severe pain was all I had to look forward to; then came Neuro Cranial Integration... my pain level decreased.

I now have regular sleep, reduced pain level, reduced depression, most of all my pain is controlable now, when before it was out of control.

I got out of bed and now I'm beginning to enjoy life. Neuro Cranial Integration saved my life."
Shari J.
"I am a 40-year-old female that has had a lot of trauma in my life. When I was 10 years old I fell off my bicycle and fractured my right femur; two years later I was hit by a boat propeller and almost lost my right leg. When I learned to walk after the boat injury I walked on the ball of my foot and toes.

At the age of 30 I was diagnosed with Bipolar disorder and as a borderline diabetic at the age of 38. 3 months ago I had a fall; injuring my head, back and knee and was told by a neurologist I had bruised my brain causing me to have severe headaches.

Since I have started cranial corrections I am now walking flat on my foot (first time in 28 years), I no longer have severe headaches and the hand testing by the neurologist no longer shows brain bruising. I look forward to having my cranial treatments and the extra energy that I receive from it as well."
April B.
"Dear Dr. Ross,
I want to thank you from the bottom of my heart for what you have done for me over the last several months. As you know, I came to see you after suffering a broken back, severe sciatica, borderline migraine headaches, AND was a few months pregnant with my third child.

I was in such pain every day. Some days I literally could not walk or move well enough to get out of bed on my own. Some days I could not slide myself into my car or drive as the pedal was too much pressure on my lower back.

Yes, very skeptical as I have tried many treatments, chiropractic visits and an assortment of over the counter and prescription pain killers. I figured you cured my Dad's migraines — or so he claimed, what could it hurt to see one more chiropractor?

Of course I was expecting immediate results, however, I am happy I let you talk me into coming back a second and third and fourth time.

As I type this letter, I am ready to deliver my baby, possibly within hours. I am in less pain today, even being 9 months pregnant and in labor than I was 6 months ago. Thank you. Remembering back to my last two children, at this point I was crying for drugs because the pain was so excruciating.

Dr. Ross, Thank You! I can sit. I can stand, I can walk. All pain free. It has been months since I have even taken Tylenol. I can actually move. I can now play with my children. I can pick them up to love them. There is considerable improvement with my relationship with my husband because I'm not complaining. My attendance at work has been better in the last 6 months than it has ever been during the past 12 years I've worked there. I didn't realize this was how it was supposed to be.

My sincere thanks to you and my Dad,"
Peggy S.
I started seeing wonderful changes in my body right away after starting cranial treatments with Dr Ross. Listed below are the changes I've seen:
Less pain in my right neck, shoulder and arm... had severe pain there.
Less upper back pain
Less constipation... the treatment seemed to return bowels to normal elimination
Back straighter... shoulders less rounded... feel I can stand straighter
Balance is better in Tai Chi
It seems to help my nervous system relax... I'm sleeping better
I now see Dr. Ross every three weeks and
I feel much improved in how my body functions.
I would recommend his treatment to anyone.
Thank you, Dr. Ross, for the miraculous treatment you've given me. It has helped my body in so many ways and continues to make me feel better and better. I'm hoping to see changes in my high blood pressure & thyroid function & night vision as time goes by.
Eric D.
"I've had ADD/ADHD, anxiety, an out-of-control temper and stress for years, and was on anti-depressants and Wellbutrin. I now have a calmer mood, relaxed daily attitude, better focus on current projects (no more project jumping), a controlled temper, better posture while sleeping, sitting and standing from Cranial care. I would tell anyone this is a better alternative to drugs; no more Wellbutrin, no more anti-depressants."
Joanne
"I have Fibromyalgia. After 10 visits in one and a half months time of receiving Neuro Cranial Integration therapy, I have much more energy, less pain in my feet and arms and deeper sleep. I feel better than I have in a couple of years. I have increased my workouts from 1/2 hour per day/ 5x per week to 2 hours per day, 5x per week. Give it a try!"
Cynthia G.
Crohn's Disease, TMJ and headaches
"My back used to go out monthly, now it doesn't go out. No more headaches from TMJ.

Neuro Cranial Integration has been the key to help with the pain I have from Crohn's.

...Neuro Cranial Integration therapy has changed my life, I feel better... these Cranial treatments keep me looking young."
Carol R.
"I have
Fibromyalgia Syndrome and Chronic Pain Syndrome.
After one month of starting Neuro Cranial Integration, I've noticed:
95% reduction of pain
More energy
100% improvement in my circulation
I no longer need to wear 3-4 layers of clothing
I have a better outlook on life, and hope for a healthier and productive future.
I have had wonderful results in 4 weeks
...I lost 5 years to pain, fatigue and hopelessness. I now feel I am back on the playing field."
Midge T.
Head Injury
"I had continued pain and irritation from a head injury where I broke the windshield with my head in an auto accident.

Within seconds of the first treatment, there was feeling in my right knee which was numb since a ski accident 20 years ago.

Within an hour, I experienced relief of pressure around my eyes with a warm feeling of circulation. A wonderful life-giving feeling.

...nothing has worked as quickly and thoroughly as Neuro Cranial Integration. After each treatment I have experienced relief from old injuries.

The lower back pain I have had since a child is now gone. My skin is clearing up. My body and mind feel alive."
Edith S.
"I initially came in for Tinnitus and body aches. I noticed a slight improvement in Tinnitus...however have noticed much bigger improvement of Restless Leg Syndrome and a great reduction of overall body ache.

My energy levels have improved. I have more spring in my step. I did not get sick when everyone else was getting sick. Give it a try!"
Dave W.
"I came in because of neck pain and sports performance. To my surprise, it cleared up a very bad case of Psoriasis (of over twenty years)."
Ben's Mom
"My 12 year old son has ADHD, Emotional issues and Asperger's (Autism Spectrum). Since starting Neuro Cranial Integration my son seems to be calmer and somewhat focused ...he always says he feels better after his treatment."
Doug L.
"I've had 8 years of migraine headaches — many severe enough to go to emergency hospital. After 4th or 5th Cranial treatment, I went 16 days without a migraine attack. That is dramatic as I have as many as 7 or 8 attacks per week or more. After 20 treatments I have decreased to 1 or 2 per week and the more treatments I have the fewer migraines I get. A side benefit is the pains in my lower back and left hip have disappeared almost entirely...Just try it."
Sherman R.
"I fell backwards and landed on my spinal cord. I displaced vertebra and got bulging disks with pinched nerves. I walked into Dr. Ross' office in major pain with the aid of crutches (previously only able to crawl)...After precisely pushing on my skull ...I walked out of his office without crutches...Truly, amazing, speedy and painless new method."
Jim H.
Parkinson's
"I'm standing straighter. My arms are hanging down (more relaxed). I get in and out of bed much easier.

Try it - Neuro Cranial Integration Care..."
Debi P.
Fibromyalgia and Chronic Fatigue
"I've experienced so many benefits — increased energy, better movement in neck and back, changed appetite (I'm full faster, snack cravings gone). Dizziness/Light Headedness tremendously better, Fibro-Fog better, Pain meds cut in half, circulation in legs improved, bruises healing faster, daily headaches gone, Restless Leg Syndrome gone, have not used asthma inhaler since starting Neuro Cranial Integration, hands are less stiff and the list could go on..."
Mitch B.
"I have Mild Cerebral Palsy and Dr. Ross helped me out with it. I was born with my feet turned inwards and he helped straighten (my feet) them out. With the Neuro Cranial Integration it gave me more energy as well as making my days more enjoyable. I do recommend him for anyone who has challenges and other things. Dr. Ross is really nice."
Karina L.
"My two-month old baby had a blocked tear duct, unequal eye size, and sucking problems. She has become a PRO-nurser since her sucking muscles are now working properly. Her tear duct is working properly (no longer has goop in her eye). Her left eye now looks about the same size as her right eye."
Arnold D.
"I suffer from Ankylosing Spondylitis, visual problems (associated with stroke to optic chiasm). (Since starting Neuro Cranial Integration 5 weeks ago) I can now turn my head without pain or restriction and can walk without being stooped. I passed an opthamology exam in which peripheral vision returned. Breathing and walking are now easier."
Pat F.
Chronic Anxiety and Depression
(After Neuro Cranial Integration Care) "I no longer have any symptoms of anxiety or depression. (I have had) Significant increases in: Ability to remain calm under stress, confidence, physical strength and stamina, feeling of being grounded, coordination...and most significant of all is for the first time in my life, I feel that my heart and head are connected."
Terry H.
"I've have pain in my neck, shoulder and arm; two surgeries on neck C5-C6, C6-C7 and a diskectomy with fusions. I am now completely off prescribed medications... I started to feel relief almost right away (after Cranial Treatments). The pain in my neck, shoulder, arm and hand has almost disappeared.

My quality of life has been almost fully restored to where it was before, if not better now."
Bonnie G.
"I've experienced a MIRACLE. Sciatica (of over 1 1/2 years) and trying to correct problems before they appear. Benefits noticed since Cranial care; "My eye sight has improved. I'm much stronger in my workouts (yoga, strength training, walking and swimming) and Sciatica is GONE after 1st Neuro Cranial Integration treatment.

Do it now, it will benefit you in ways you never expected."
Yolanda S.
Cerebral Palsy
"My 13 year old son (with Cerebral Palsy) would walk with his feet pointed in and rapid eye movement (Nystagmus) when he looked right or left. (Since the Neuro Cranial care) His feet are forward and his eye movement isn't as rapid as it was in the beginning. He seems to be more confident, walks with head and shoulders upright instead of head down and shoulders droopy."
Clifford K. (71 years old)
"My eyes have been light sensitive since a 1961 head injury. I've had stomach problems since five years old, muscle stiffness since 1999 (Sjogrens Syndrome and Neuropathy), Insomnia off and on since 1967."

"Amazing, ...eye light sensitivity 95% gone after one treatment, I can now go outside without sunglasses; no more stomach pains after two treatments, muscle stiffness improved 75% and insomnia is gone. Try it (Neuro Cranial care) and you may become hooked."
Kelley R.
Fibromyalgia
"To be perfectly honest, I was not open to seeing Dr. Ross. I felt that this "Neuro Cranial Integration" that he believed in was just to "simple" to be true. I had given up and was ready to accept that this is how my life (with Fibromyalgia) was going to be. I only agreed to see him because I felt that I owed it to my husband who has been so supportive of me.

After the first treatment I felt a change. However, I did not want to believe it! It just did not make sense, it was too simple. I had been told over the last 3 years that fibromyalgia was a complex problem, and I thought to myself, "how could such a simple adjustment treat such a complex problem??" and then I remembered what my Grandmother has always said to me, "Simple is best." And you know what? She's right. By the way, she is 91-years-old and my 14-year-old has a hard time keeping up with her.

If you are thinking of trying this and are a little unsure.....just ask yourself, how many times have you gone to the Dr. asking for help? And how many Drs have you seen? How much time have you spent on the internet looking for relief? How many books have you read on fibromyalgia?

Dr. Ross is very passionate about his work. He believes in his work and about all his patients. He truly wants to help. How many Drs have you met that truly want to see you get better?

Like my Grandmother said, sometimes 'Simple IS Best!'"
Steve R.
Fibromyalgia
"... in the past three years my wife (Kelley) has dealt with the ugly hand of Fibromyalgia. I was skeptical, but thought, "What the hay! Give it a try." My wife has had three treatments now and is pain free...We'll continue the praises of Neuro Cranial Integration."
Frank I.
"I have (chronic) eye pain caused by pressure as a result of retinopathy and arthritis resulting in foot pain. Since Neuro Cranial Integration Therapy; decrease in foot pain by 75%. The ability to walk with no further pain. Cessation of eye pain with the first Cranial adjustment. Clarity of mind. Restful sleep. Increase in concentration."
Margaret C.
"(I've been) in chemo therapy — no energy, very tight muscles...history of ocular migraines...(since the Neuro Cranial Integration) much more energy...after four treatments I have so much energy I was able to do housework for twelve hours, with short breaks — without fatigue."
Tyrena D.
"My 3 1/2 year old daughter has Spina Bifida, and has only been receiving Neuro Cranial Integration for two months...

The improvements are amazing...walking had become something that seemed impossible...her physical therapy has improved 200%, she's able to take a good 20 steps in her walker with braces. Nothing compares to the benefits and improvements she has made in the last two months. The Neuro Cranial Integration is the answer to my prayers."
S.D.
"...I've seen five chiropractors, seven medical doctors (including four surgeons)...injuries include cervical disc herniation (surgery recommended), Cubital and Carpal Tunnel Syndrome (surgery recommended), failed lumbar fusion and three head injuries.

After six Neuro Cranial Integration treatments my extremity and trunk strength has increased 500%, my cognitive abilities have improved 50%, my vision has improved, my eyelid no longer droops, I am starting to sleep again.

...This is stunning, I feel a great gift has been given to me. Thank you very much."
Barbara K.
"I have neuropathy in my feet and hands...after having the Neuro Cranial Integration therapy I notice that my legs feel stronger and less tired."
Julia C.
"...I can see clearer, I can walk up and down stairs with greater ease. I have more energy, I can hear better...NO MORE severe headaches...Have Neuro Cranial Integration Therapy and join in on feeling good about yourself in more ways than one."
Donna B.
"I get less burning heart burn, less neck and back pain, more energy...I am recommending it to everyone I know."
Steve C.
"I had three Neuro Cranial Integration corrections before I was in an auto accident...I believe that I will recover twice as fast because of the Neuro Cranial Integration corrections. I feel much better two weeks after the accident."
Ryan L.
"My low back pain is gone, neck pain/tension greatly reduced. I'm MUCH more relaxed throughout the day after a Neuro Cranial Integration treatment...people are getting such great results for this technique — it's too good to be ignored."
Tyrena D.
"My (younger) daughter had an ear infection, she was also feeling really tired. After the Neuro Cranial Integration she seemed to be much happier, more awake and her ear hasn't bothered her since. I would recommend this therapy to everyone. It had immediate results for my daughter."
John C.
...the simple 2-3 minute procedure keeps me going much longer than the traditional adjustments I was receiving."
What people are saying about Dr. Ross…

"Dr. Ross is totally focused, educated, competent and knows what he is doing. I feel totally relaxed when he is working on me."
---
"Dr. Ross really cares about his patients...he has a gentle approach and puts me at ease."
---
"Neuro Cranial Integration is doing everything he said it would."
---
"There are no words to express how I felt about the care Dr. Ross gives to me..."
---
"...Listens and hears what I am saying, is very caring."
---
"Dr. Ross is an excellent chiropractor, I would definitely recommend him to friends and family. He is also very knowledgeable and up to date on health issues and information."
---
"Dr. Ross is a true professional...his constant research, knowledge, positive attitude are what I consider the most important and beneficial attributes in a health care professional. Thanks, Dr. Ross"
---
"I would recommend Dr. Ross to anyone. I am very comfortable with him. His is very concerned and gentle."
---
"Dr. Ross really cares, he wants you to get/feel better — his explanations are easily understood. I want everyone I know to have the opportunity to experience Neuro Cranial Integration."
---
*Disclaimer: Neuro Cranial Integration (CSi) treatment does not cure conditions, disorders or diseases. By improving the state of the cranial bones and vertebra the body is able to function at a higher level. The body heals, not the doctor.