Welcome to Wellness22 Chiropractic. I'm Dr. Craig S. Ross and we're here for your health in West Hills in the San Fernando Valley and in Santa Monica, Southern California. My staff and I are committed to providing you with chiropractic care beyond ordinary chiropractic.
One of the main differences of our services is that we offer Neuro Cranial Integration (NCi), a unique brain-based technique as well as several other brain-based treatments. Today, due to the work of Dr. Bennet Omalu (as seen in the movie "Concussion") and the books and lectures of Dr. Amen, more and more people are becoming aware of the vital role the brain plays in the body's regulation and state of health.
But long before the movie, Dr. Ross had already developed Neuro Cranial Integration (NCi), one of the precious few ways to actually reach and re-balance the functioning of the brain.
Here's a little more about Dr. Ross:
Dr. Craig Ross, one of the nation's leading chiropractic authorities on brain function and its affect on health and chronic conditions such as Fibromyalgia, ADHD, Autism, Parkinson's, Migraine Headaches and more, has returned to Southern California. In 2008, he co-developed CSi:Cranial Spinal Integration; in 2011 unveiled Neuro Cranial Integration: NCi – the most effective cranial technique which reaches the dura mater directly responsible for brain and nervous system balance and health.
As a distinguished clinician, trainer, lecturer and researcher, Dr. Ross trains doctors internationally in this innovative and revolutionary technique.
Dr. Ross graduated with Cum Laude honors from Cleveland Chiropractic College, Los Angeles, after simultaneously completing his undergraduate training in Physical Education and General Science at California State University, Northridge. Dr. Ross' certification in the Care of the Elite and Professional Athlete further expands his ability to better serve his patients.
He is the founder of Doctors4Entertainers (D4E), a group of chiropractors that serve the Smooth Jazz, Rock, Comedy and Dance world, helping them improve their performance through optimum brain and body function. He's about to launch Doctors4Athletes to better serve the athletic community.
Dr. Ross' passion for children's development and sports led him to teach in Los Angeles City Schools and coach baseball and softball for over 35 years. His continued coaching at the youth, high school and college levels resulting in a national championship and many national and state tournament appearances. This has also led him to his interest and skills in improving the function of children with ADHD, ADD and Autism.
With 27 years experience Dr. Ross has returned to the San Fernando Valley to share his expertise with the people of Southern California.
About Neuro Cranial Integration (NCi)
Neuro Cranial Integration Gently Unleashes Your Brain's Healing Power®. Our additional Brain Based Therapy techniques and methods assist your body's healing in many other ways, as well.
Neuro Cranial Integration takes tension out of the nervous system, gently aligns your cranial bones and balances the brain from the inside out – restoring proper cerebrospinal fluid flow throughout the spine and entire body.
It relaxes and restores the optimal functioning of your nervous system
We also provide painless, drug-free, non-intrusive treatment for a wide variety of injuries, pain syndromes and neurological conditions through Non-Surgical Spinal Decompression, Neuro-Therapeutic Movement and Low Level Laser Therapy (LLLT) – also known as Cool Laser.
We treat our patients with these modalities:
Neuro Cranial Integration (NCi) and Brain Based Therapy:
Here at Wellness22 Chiropractic we believe that wellness begins in the brain. The brain is the master organ that controls all of your body's functions. Due to these revolutionary treatments, Dr. Ross has provided thousands of patients suffering from injuries, headaches, migraines, fibromyalgia, ADD, ADHD, Autism, Parkinson's, Peripheral neuropaphy, TMJ pain and more with a safe, gentle and effective way for their body to heal itself without drugs or surgery. Our treatments can gently unleash your brain's healing power.
Wellness22 Chiropractic works towards educating the community and other doctors about the benefits of chiropractic cranial for optimal health. We believe that the restoration of balance to the cranial, nervous and structural systems as well as the entire human body is paramount to optimal health.
Non-Surgical Spinal Decompression:
We use a computer assisted traction device with a specific protocol to help alleviate the pain and disability of cervical and lumbar disc injuries, sciatic, spinal stenosis, failed-back surgery and more.
Neuro-Therapeutic Movement:
With the aid of the NTT device we are able to put your back in a pain free position — once we have accomplished this, through simple pain-free exercises we can return you to pain free range of motion in a matter of minutes.
Low Level Laser Therapy:
To assist our patients further, we now offer Cold Laser Therapy for fast pain relief and accelerated healing of injuries, strains, sprains, inflammation and numerous other conditions. Low Level Laser Therapy (LLLT) has the ability to significantly accelerate and enhance the body's natural defense and repair components.
Where We Are Located:
We serve patients locally in West Hills in the San Fernando Valley and Santa Monica in the greater Los Angeles area. Often, patients travel from out-of-state to receive Neuro Cranial Integration (NCi) treatments. Dr. Ross also travels "on the road" from time to time treating musicians and entertainers through the Doctors4Entertainers program.
West Hills Office:
WELLNESS22 Health
Advanced Chiropractic Cranial
Dr Craig S. Ross, D.C.
6700 Fallbrook Ave. Suite 170
West Hills, CA 91307
818 515-9685
Hours: Monday, Tuesday and Thursday, 9am-12 noon and 3-6:00 pm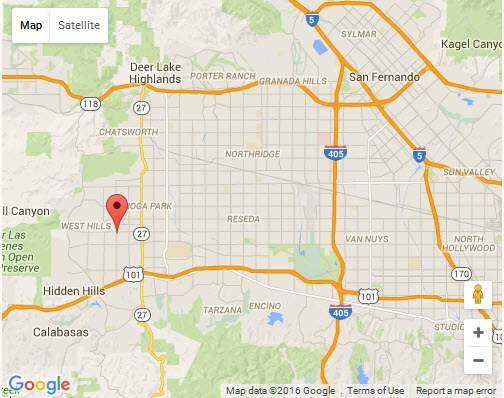 Santa Monica Office:
Chronic Condition Care
506 Santa Monica Blvd., Suite 227
Santa Monica, CA 90401
818-515-9685
Hours: Wednesday: 9am-12 noon and 3-6:00 pm