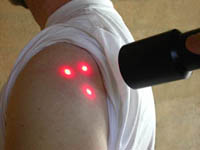 Why not give Low Level Laser a try… on us?
For a limited time, Dr. Ross is offering a FREE introductory Low Level Laser treatment for first-time visitors!
Be sure to sign up now and secure your spot!
To request your Free Low Level Laser treatment with Dr. Ross, please fill out the form below with your name and primary email address.
Please use your primary email address (not Hotmail or AOL as they tend to get blocked). Be sure to include your phone number so Dr. Ross can call you back for an appointment:
We value your privacy and promise to keep your info safe and confidential.
*Must be over the age of 18 to request free cool laser treatment. Offer limited to first-time visitors only.